Welcome to the May 2012 Simplicity Parenting Carnival: Organizing
This post was written as part of the monthly Simplicity Parenting Carnival hosted by The Lone Home Ranger and S.A.H.M. i AM. This month we are discussing how we organize our lives. Be sure to read to the end to see a list of the rest of the excellent carnival contributors.
***
How do you organize life? Do you put things in boxes and label them neatly? Or do you have a calendar filled with highlights and "penciled" in activities, showing who goes where and when? Can you put life in a box, highlight it or pencil it in? Life cannot be organized. Things and plans are organized. And try as we might, life happens whether you are ready for it or not.
What do I mean by this?
Well little kids don't plan snuggles, kisses, and impromptu trips to the park, they just joyfully happen.
Playground
My dog decides to try and have porcupine for breakfast, this was certainly not on my calendar! And thanks to our fantastic vet; he is doing just fine! Hopefully the old man has learned his lesson!
Bear v porcupine, the porcupine won!
Love happens, and if you desire, more than once. I have fallen in love 4 times, with the Hubs, Peanut, Little Bird and Little Bug. I had always hoped to fall in love one day and it just happened. No plan, no penciled in appointment.
The hubs with Little Bird and Little bug
Sweet sixteen party! (r-l) Peanut, Little Bird and Little Bug
That is what I mean by life happens.
How do I organize the things in my house? The simpler the better I say! I have learned to pare down my stuff. And believe me, as a
hoarder
lover of things, it was hard. I would buy something because I liked it at that moment, it never really had a place; it was always in the way. The mindset was someday I will find a spot for that. Until I realized one day that these things did not make me any happier. So I set out on a mission in the beginning of the year to rid my life of the stuff.
Also last year we decided to pare down our schedules. We decided that one activity per season was enough for the kids, it gave them the social interaction they needed and still kept us sane. We were finding that if we did too much we end up with cranky children. And who likes cranky children? Not me! So our schedules are pretty light. The kids get to pick one activity to do, Little Bird is playing Little League. In the fall her and Little Bug want to play soccer. Nice, easy, and light.
So can I tell you this has been the happiest year of my life. I feel so liberated! And while I do agree that it should easily be able to find spices, spoons, toilet paper, etc., I think that slowing down and spending time with my family is way more important than anything else!
***
Thanks for reading the Simplicity Parenting Blog Carnival! We hope you'll take time to read these other great contributors' posts: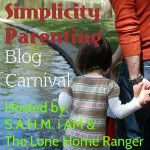 Thanks to all the fabulous writers and readers for being a part of our simplicity parenting community! Stop by
The Lone Home Ranger
and
S.A.H.M. i AM
to see how to join us for a future carnival.