Welcome to the June 2012 Simplicity Parenting Carnival: Green Living
This post was written as part of the monthly Simplicity Parenting Carnival hosted by The Lone Home Ranger and S.A.H.M. i AM. This month we are discussing how we find ways to be more natural parents and stewards of the environment. Be sure to read to the end to see a list of the rest of the excellent carnival contributors.
***
I have to admit I got really excited when I read that green living was the topic for this month's Simplicity Parenting Blog Carnival! Becoming green can be one of the easiest, healthiest and cheapest changes you can make in your life!
I used to think that my house had to smell a certain way in order for it to be "clean" and it wasn't disinfected unless bleach was used on every surface. I also used to think that being green was unattainable and so hard I couldn't possibly do it. I was certainly wrong!
Those "smells" in my home that I loved so much, were actually toxic VOC's (Volatile Organic Compounds) which have both short and long term effects and they cause things like irritations of the eyes and nasal passages. It made me to think about my kids growing up with all kinds of health problems that could have been avoided had I just not used the bald guy or bubbles that scrubbed.
Where do I begin with bleach?

The companies who sell these products will make you think nothing else could kill those nasty germs!

But did you know b

leach isn't the safest method for getting rid of germs?

Bleach can also cause respiratory problems such as asthma and allergies, cause skin burns, be absorbed into your skin, and cause damage to your vital organs and central nervous system. There are many essential oils that do the same job as bleach but without the harmful side effects!
Being green really couldn't be easier.
Okay, so how did we do it? Baby steps. We changed our habits one thing at a time.
First we started with a garden and determined that we were going organic. That meant no pesticides anywhere in our yard. I thought this was going to be hard because we have carpenter ants. But...
We got chickens; they are like a natural pesticide. They were the one, two punch we needed to get rid of the bugs without having to use harmful chemicals. I watch them pick bugs out of mid air! They are adorable too!
Happily eating bugs!
Then we changed the household cleaners from the harsh chemically stuff over to Mrs. Meyers. Then I found out I could make the same Mrs. Meyer's cleaners myself. Cheaper. I like cheaper, it saves the money we work so hard for!
Here is a list of the household cleaners we have changed so far:
Laundry Soap- Recipe below
Fabric Softener- Recipe below
Flea powder (for carpets only)
We also decided that we were going paperless for our everyday life. I took exception to things like parties because I am just not that into doing the dishes! Pretty much we just stopped buying paper plates, napkins and paper towels. Microfiber towels are our best friends now! I do keep a few rolls paper towels in the house for when the dogs or cats mess in the house or to clean up something REALLY yucky, but that is all we use them for.
How can you start your baby steps? Here are three tips to get you started:
1. Decide what you want to change. Maybe you just want to start out by making your own all-purpose cleaner.
2. Research and test. Find some recipes for homemade cleaning products. I like TipNut.com a lot and use it as a starting point for a lot of different things!
3. Start small. You do not want to make a huge batch of that all-purpose cleaner only to find out you hate it or it does not work as well as you thought.
I hope I have inspired you to start becoming greener!
HOMEMADE LAUNDRY SOAP- Recipe from TipNut.com
Hot water
1 cup Washing Soda
1/2 cup Borax
1 Soap bar- I use scented castile soap or Fels Naptha,
Grate the bar and add to a large saucepan with hot water. Stir over medium-low heat until it dissolves and is melted. Do not let the water boil!
Fill a 10 gallon pail half full of hot water. Add the melted mixture, Borax and Washing soda; stir well until all powder is dissolved. Top the pail up with more hot water.
Use 1 cup per load, stirring soap before each use.
HOMEMADE FABRIC SOFTENER- I almost feel like this is cheating but it is just too good not to share!!
I use a fabric softener ball to measure the amount but I would say it is about a quarter cup of vinegar for a large load of laundry.
***
Thanks for reading the Simplicity Parenting Blog Carnival! We hope you'll take time to read these other great contributors' posts: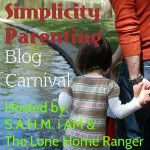 Thanks to all the fabulous writers and readers for being a part of our simplicity parenting community! Stop by
The Lone Home Ranger
and
S.A.H.M. i AM
to see how to join us for a future carnival.